Jeff Michel, "The Mighty Spirit"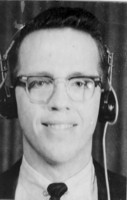 John Vencill


This page is dedicated to the goings-on at WTBS in the 1960s and 1970s -- primarily Nite Owl and related activities. This site has no formal connection with the present-day MIT campus station (now WMBR).

Latest additions:
8 Apr 2019: 15 new promos and (would you believe) 40 tracks performed by the Master Control Chorus & Orchestra, all from the 60s and 70s.
20 Aug 2018: A first! Nite Fowl segments from John Woods & John Vencill, John C. Hein (Leo Rotenberg, engr), and Bill Mohn (Keith Ferguson, engr). Plus Nite Owl with Jeff Michel from May, 1964 and fall 1963, Nite Own with Dan Murphy 64-65, and Rise and Shine with Jeff Michel from May, 1964.
22 April 2016: We are now streaming old Nite Owls and other WTBS programs of the day 24/7. Click the player links above to listen.

"Nite Owl" was the name of the program that was aired at various times on Friday and Saturday evenings on WTBS through the 1960s, 70s, and part of the 80s. It's main claim was always "All-Request" -- the goal was to take telephone requests for all the music played. Much of the time, this was accomplished, with many requests to spare.

Nite Owl was hosted by a different announcer/DJ on each of the Friday and Saturday slots, and was hosted by many different people over the years. While the basic "all-request" policy was a constant, the individual DJs brought their own style to their slot, and several of them became quite distinctive over the course of several years.

Nite Owl was the primary, if not the only, breeding ground for a number of other noteworthy bits of programming that have taken their place in WTBS lore. This includes the "Apple Gunkies" and other pseudo-commercials, the Doormat Singers, the "Master Control Chorus and Orchestra" (MCC&O), "Nite Fowl", and a large number of spots promoting the show.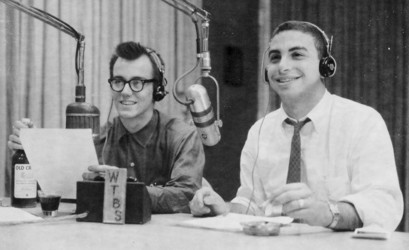 Dan "Madman" Murphy and Ted Young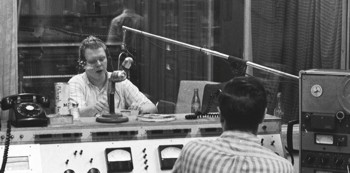 John Foran
Archive Recordings:
Those who remember the audio recording technoligies of the 1960s will understand why relatively few recordings of complete shows from those days were made -- 'few' compared to the many hours Nite Owl, RnRMT, Rise&Shine and other shows were on the air. However, long-forgotten recordings continue to turn up in basements and attics, and we continue to welcome all such contributions.

We now have enough that we have set up 24/7 streaming of them. This means you can 'tune in' any time and hear some bits of old-time radio, WTBS style, for as long as you care to listen. Just click the links at the top of this page.

Special thanks to Mike Ward, an MIT student of the era, who sent me a treasure trove of Nite Owls and related recordings from the early and mid 1960s which are now being added to the stream. We continue to seek old recordings, so if you have any, let me know and we'll figure out how to do it. Here are some of the programs now running:

Nite Owl with John Kosian (1973)
The Mike Davis Radio Program (1973).
Nite Owl segments from John Kotter and John Woods.
An RnRMT segment with Chuck Deber. A rare feature entitled "Sense Of Wonder."
Promos and hacks from Tom Higgins.
As an introduction or sampler of WTBS from 1961 to 1976, check out the WTBS "Retrospective" which I did on my last Nite Owl shift before leaving WTBS for WCAS in 1976. This includes numerous segments from the 1960s and early 1970s. The complete programs from which these excerpts came are in rotation on the audio stream. For listening convenience, the program is divided into several segments: